This week we've got a baker's dozen of striking cat-themed salt and pepper shaker sets. These are cats you won't want to shoo down to the floor. Click any image or link for product info and pricing.

We have several Romero Britto Cat Salt & Pepper Shaker Sets
 this week.
I LOVE LOVE LOVE the brilliant use of color.
Got tuxies? Then this cute Tuxedo Cat Salt and Pepper Set
 is a MUST HAVE!

Even though one is canine, who can resist this whimsical Dog and Cat Salt & Pepper Shaker
 set by Cilio?
This contemporary Jonathan Adler Mod Black & White Cat Salt & Pepper Shaker Set could double as mini sculptures.
Rumor has it, this Kissin' Meezers Salt and Pepper Shaker Set  could be Chey and Mao.
It's certainly not Chey and Ichiro!
Check out the purrsonality on the faces of these two stripey cats – the Chester the Cat Salt & Pepper Shakers
 .

 This pair of taupe and white Cuddling Kittens
 by Ganz are designed in lovely lines and soft hues:
Another colorful Romero Britto Cat Salt and Pepper Shakers Set
 that's hard to resist!
This Romero Britto Salt & Pepper Shaker set
 features a lion and tiger.
This pair – with whispers of Picasso – is from the Muzeum Cat collection
.
11
WARNING! This Magnetic Cat and Fishbowl set might make your cat hungry!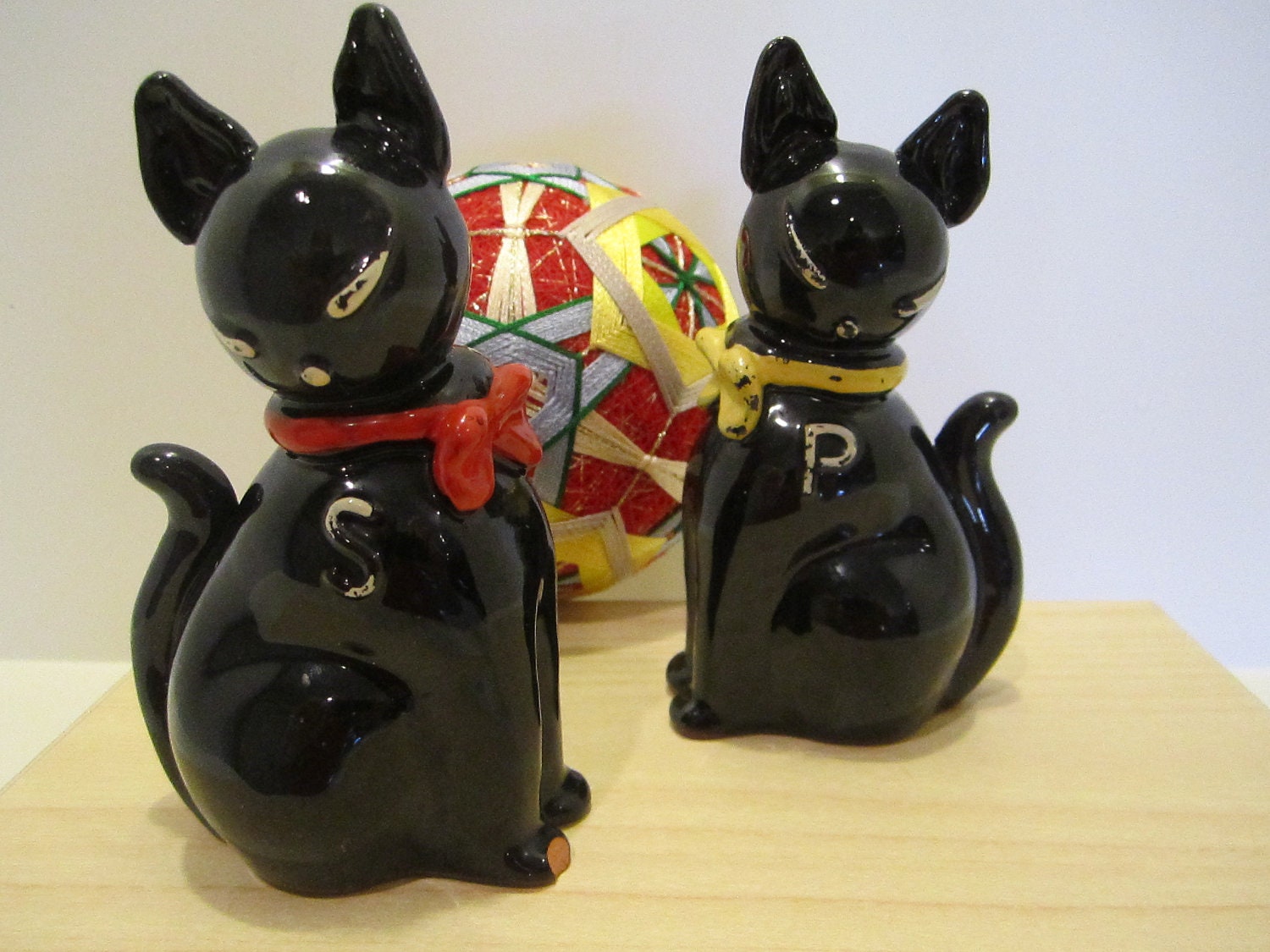 Got mid-century modern decor? Add this pair of 50s vintage house panthers to your table.
These fat boys are hand-crafted ceramic shakers, certain to make you smile when you pour on the sodium and heat.
Category: 0 - Featured, Art & Crafts, Lifestyle, Thursday Thirteen
Karen Nichols
is a Pet Industry Influencer, Publisher and Multimedia Designer in the San Francisco Bay Area. She has over 15 years of experience in the Internet Industry as a User Experience Analyst and Interaction Design Consultant. She's blogged professionally for nine years, and is a respected expert in social media, web analytics, online branding and Wordpress design and development. She's a popular speaker at pet industry conferences. In 2013, she won the BlogPaws social media awards for Best Cat Blog and Best video. In 2012, Karen won the Best Blog Design award for SkeezixTheCat.com. She was one of seven finalists in the national Purina Cat Chow Correspondent search in 2010. She has been a spokesperson for Friskies and judge of the 2012 "The Friskies" video contest, and a juror for the Internet Cat Video Festival. Karen is a member of the Cat Writer's Association, Women in the Pet Industry, the IAABC, The Interactive Design Association and the North Bay Multimedia Association.