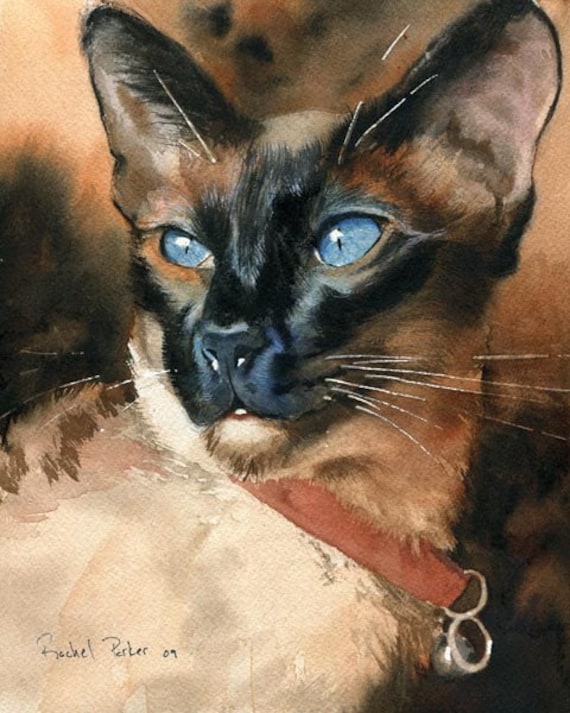 Watercolor is a tough medium to master. It's unforgiving; you can't just paint over mistakes. When you apply the water it will not always go precisely where you like. For me, whose favorite medium is India ink scratched onto paper with a crow quill pen, watercolor seemed like a wild horse running away with me. Which is a long way of saying that I really
really
admire watercolor artists and appreciate good watercolors as only one who has tried repeatedly and failed can.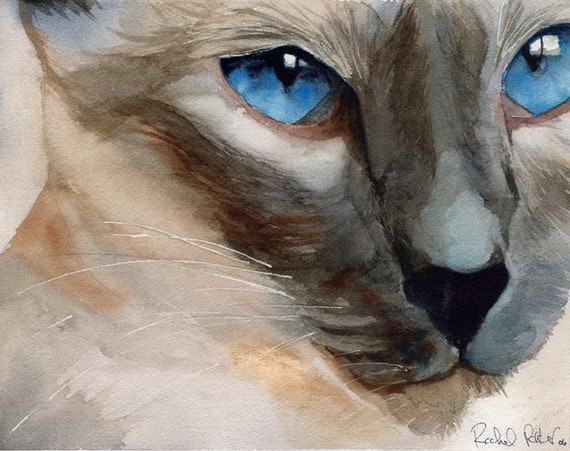 Rachel Parker is a prolific self-taught artist in South Carolina who specializes in watercolor animal portraits that will zing you.
Her Etsy shop
features 80 cat portraits in addition to many more of dogs, horses, farm animals… you name it. She has a section devoted to Siamese cats, a breed with which she has a special bond:
My best friend was once a Siamese cat. He would lie on my chest with his purring chin on mine, and we would fall asleep that way. I remember thinking at that moment that this was the most blissful I could possibly be.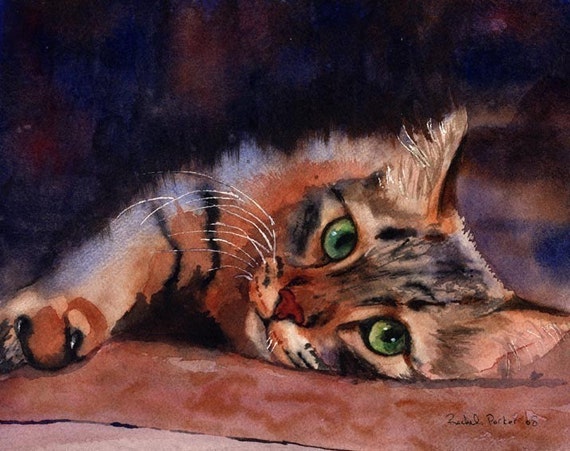 She doesn't stop at Siamese, though. Her body of work includes just about every type of cat imaginable.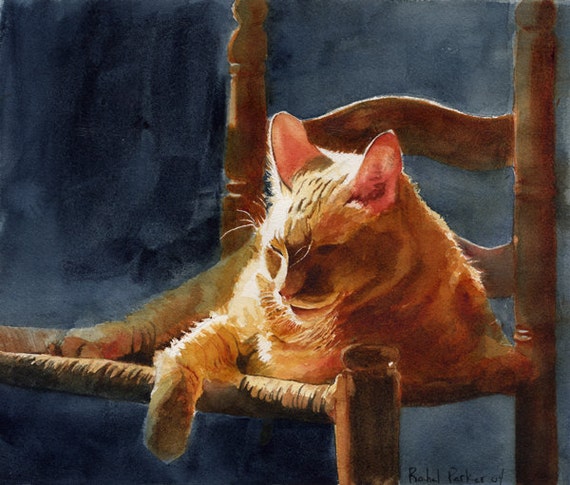 You can purchase giclee prints of Rachel's work in
her Etsy shop, Rachel's Studio
. She offers several sizes of each limited edition print on watercolor paper. For the budget conscious, digital files (to print yourself) are available for sale for only $25. You can also friend Rachel
on Facebook
to follow her artistic adventures, or visit her blog at
rachelsstudio.blogspot.com
.
Please follow and like us:
Category: Art & Crafts, Featured, Last Week, zzz Previous 3 cat articles
Mousebreath Magazine is an award-winning online magazine that celebrates cats and the cat-centric lifestyle. Editor Karen Nichols is a popular conference speaker and writer, whose current project is The Cat Scout Handbook. She is also the denmaster at CatScouts.com.