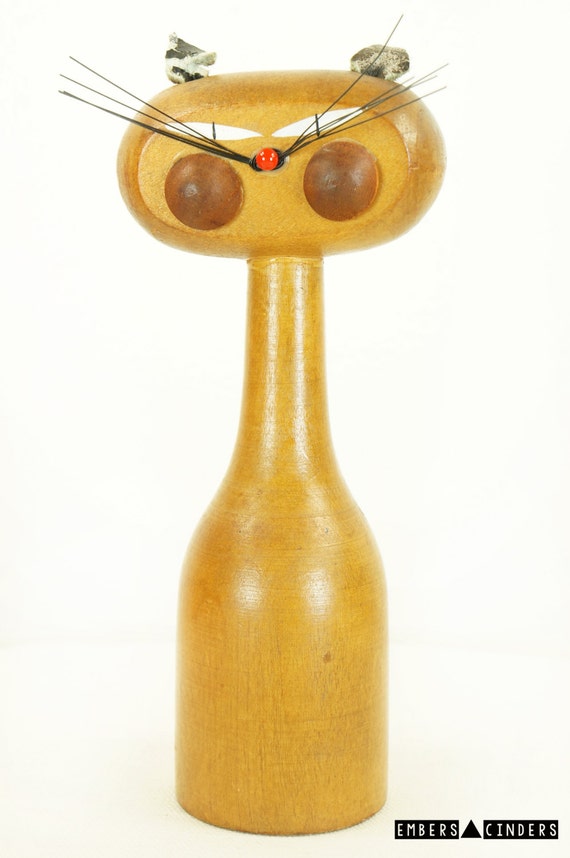 I can never get enough of mid-century modern style. Add cats, and the combo is hard to resist. Here are 13 throwbacks that I defy you to ignore.
Above, this darling mod century cat-shaped pencil holder from Japan is in the shape of a simplified cat.
It is made of solid wood, with the base that creates the shape of the cat's body fitting into an ovoid shape that represents the cat's head. The head is decorated with two applied wood buttons to make cheeks. Two almond shaped eyes are painted on, with a little red plastic pin head for the nose. Projecting fro the nose are the black bristles of the kitty's whiskers. Two leather cat ears are fixed into holes on the top of the head. Both of the ears are worn, the left one has a tear in it.
$12. Info here.
---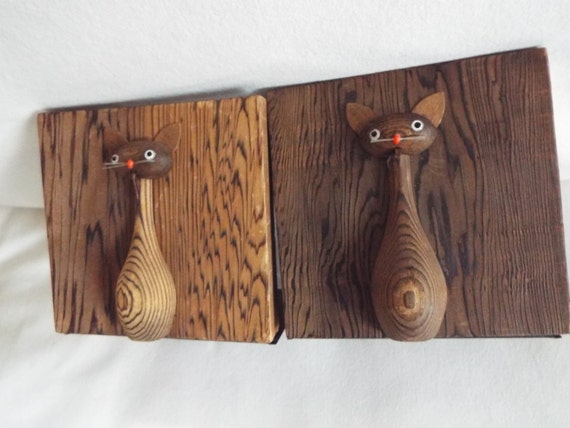 These "Danish Modern" vintage cat bookends were made in Japan. Funny, right?
Solid wood with a metal base that comes out for easy storage and shipping. Size: 4-7/8 x 3-3/4″
$24. Info here.
---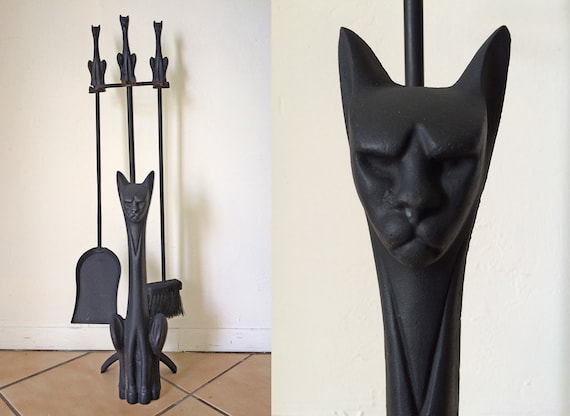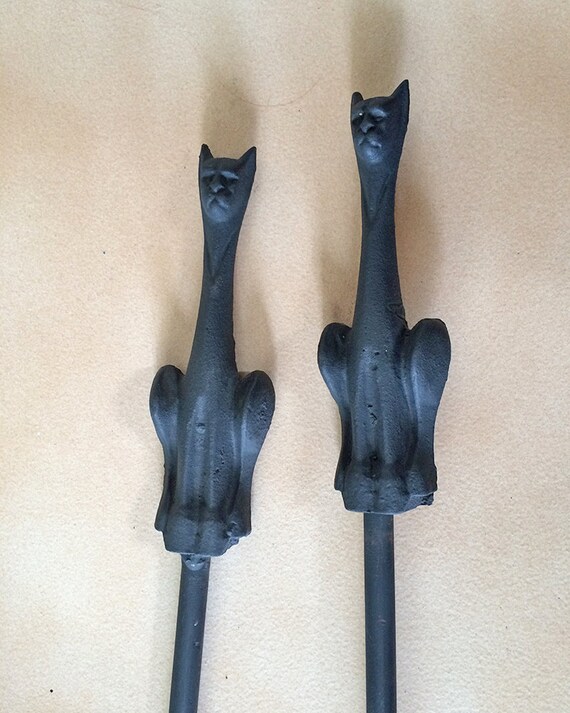 I immediately fell in love with this mcm cat andiron set, even though at $750 it's beyond my price range.  Solid black wrought iron construction, it features a large cat with two tools that show off smaller cats on the handles.
$750. More info here.
---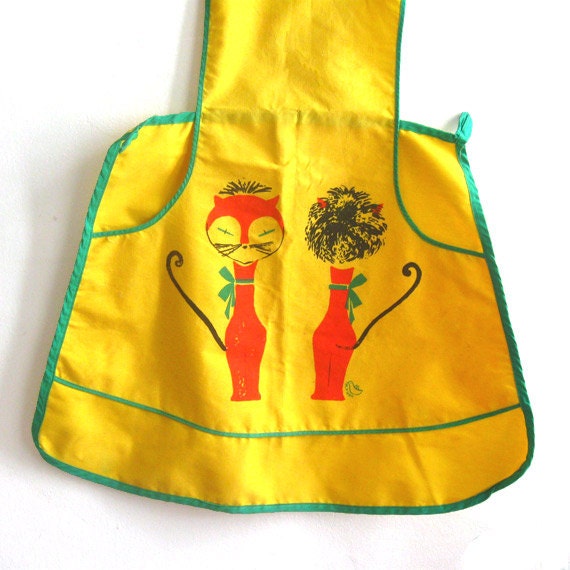 When you're in the kitchen whipping up a wieneroni casserole or jello salad, you MUST wear this vintage cat apron with bib. C'mon — let the Betty Draper within you come out!
$15.00. More info here.
---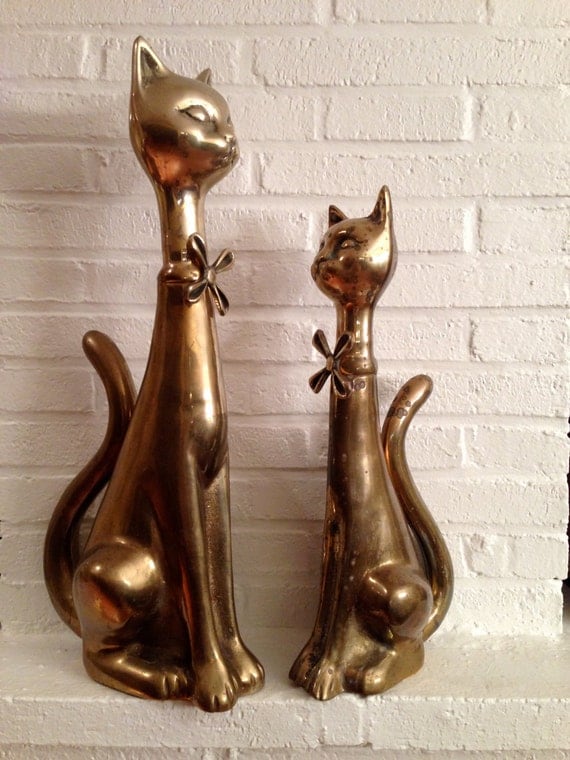 Years ago, I cam very close to buying a set of 50s-era Siamese cat figurines. Now they're a little too spendy to talk hubby into. But nothing's stopping you from buying them!
These are qintessential mid century brass cats with bow ties. Both pieces are in good vintage condition. Taller brass cat is nearly 20″ tall. Both are hefty solid brass pieces.
---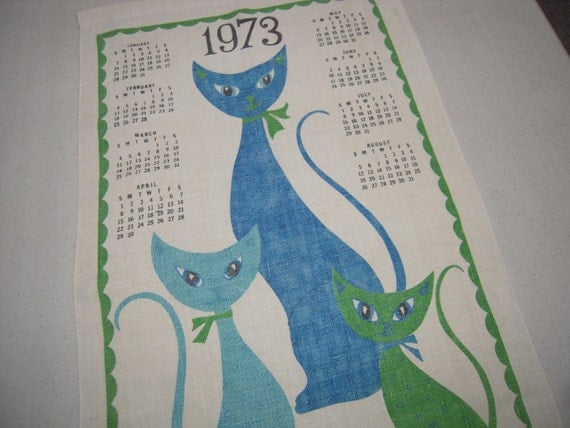 Slip back to 1973 and the Watergate era. This linen towel would be amazing framed in a kitchen. (THINKING: those colors go well with the new powder room. hmmmm…..!)
---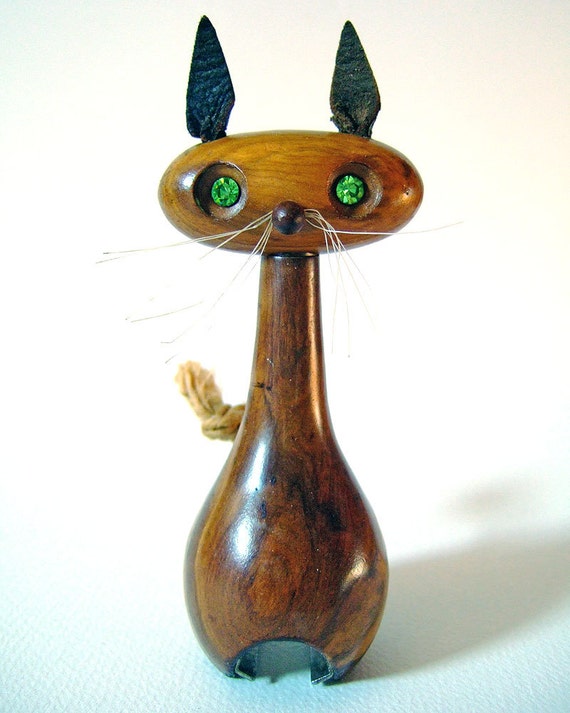 Would your bar be complete without this kitschy vintage cat bottle opener? I think not!
The cat is made from turned olive wood, with applied green diamante eyes, and leather ears. He has cotton whiskers and a string tail. The opener itself is made from chromed metal.
---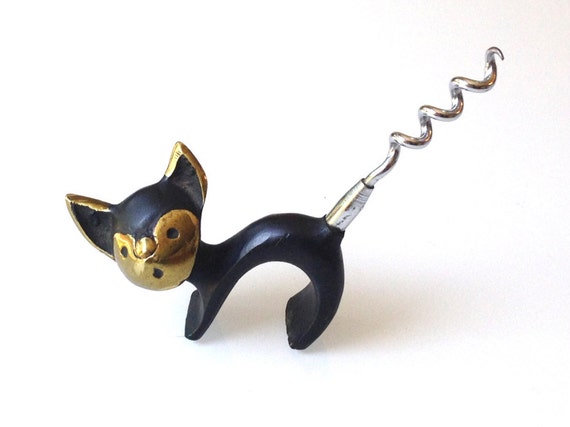 This brass vintage cat corkscrew would complement that bottle opener, dontcha think?
Designed by Walter Bosse, it's made in England (which means it's classy). It is marked on the bottom L/609 ENGLAND. A fantastic piece of mid century modern design!
---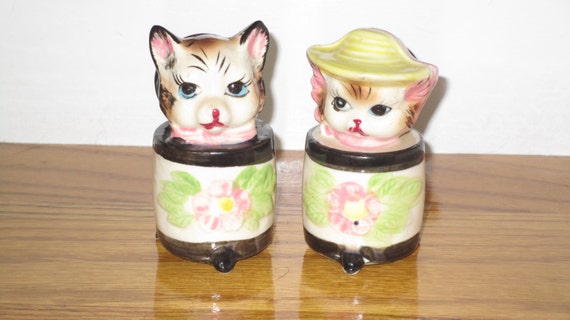 $10 will get you this darling salt-and-pepper set. Cork stopper intact!
---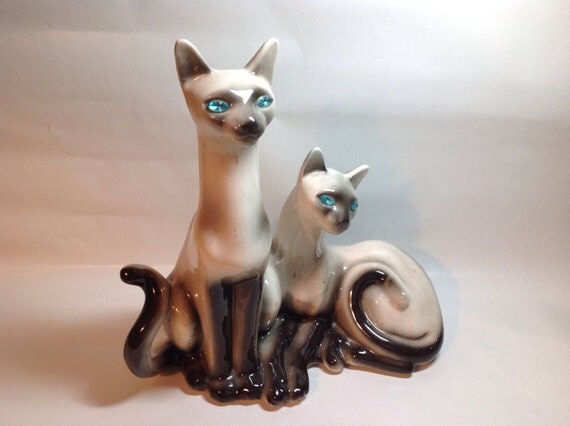 This, believe it or not, is a lamp. The bulb screws in the back: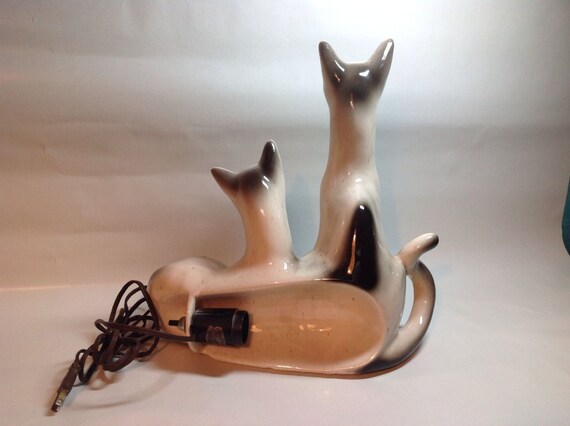 These lamps were all the rage in the Mid-Century and usually sat upon the television commanding the room.
The eyes are exotic almond shaped blue faceted gem-like stones inset into in the ceramic allowing the light to glow through them creating the air of a watchful Feline peering into the room with its curious glowing eyes.
$210. More info here.
---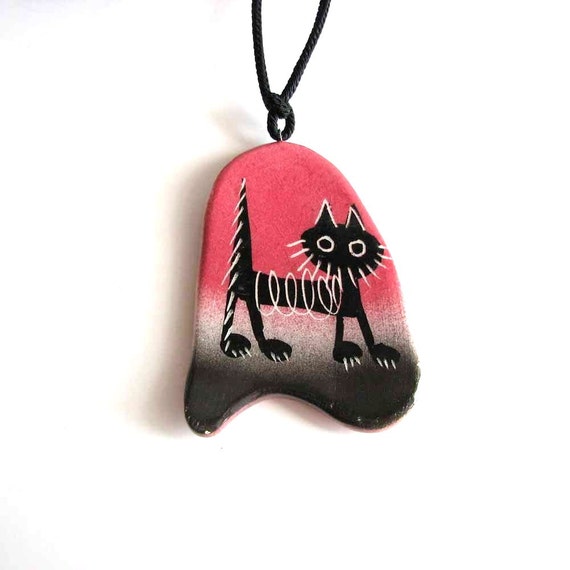 Did someone say MCM cats?
This vintage cat necklace by Lilli of California is ceramic or porcelain with a heavy glaze. It has been hand painted with a black cat. Who can resist the boomerang shape? The pendant hangs from a black rope.
---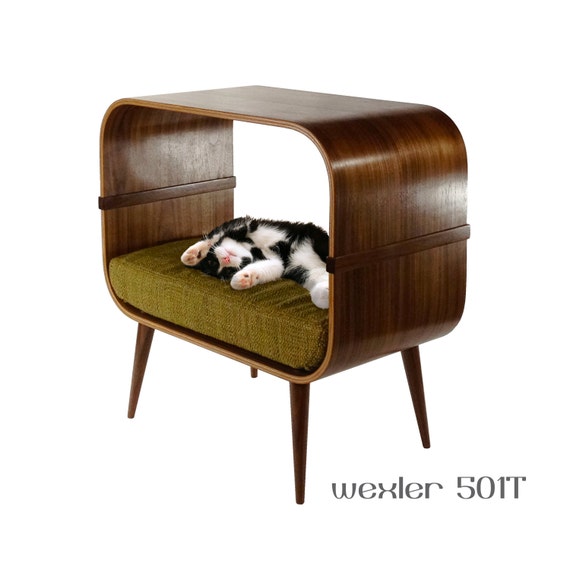 This is not an authentic vintage item (was there even such a thing as cat furniture in the 60s?), but it is a perfect representation of MCM furniture design. The cabinet body is made from scratch in the artist's studio and is an 8-layer lamination.
---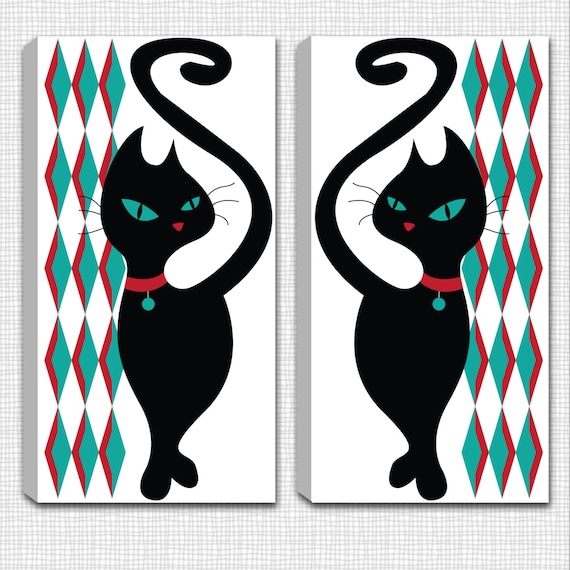 Like the cat bed above, this is not authentically vintage, but features a Mad-Men-era design. And it's available in three color schemes. High quality prints on canvas, mounted with stretchers.
$112, set of two. More info here.
---
So, which is your favorite? Me, I can't get that fireplace set out of my mind.
Category: Art & Crafts, Featured, Last Week, zzz Previous 3 cat articles
Mousebreath Magazine is an award-winning online magazine that celebrates cats and the cat-centric lifestyle. Editor Karen Nichols is a popular conference speaker and writer, whose current project is The Cat Scout Handbook. She is also the denmaster at CatScouts.com.