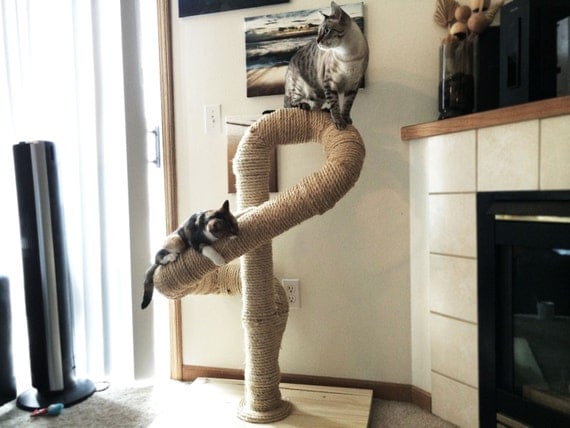 When I think of my experience at CatCon in LA a couple of months ago, I have a vivid memory of seeing an "Indiana Jones cat bridge" and swearing that I must. have. it. It was at the CatastrophiCreations booth, and I was mightily impressed by the quality and ruggedness of their cat furniture.
CatastrophiCreations' goal is to create an attractive and functional vertical space on which cats can explore and relax. Whether you have a lack of floor space and don't want to set up a large cat tree, you want to give your cats a fun perching area up high or if you need to solve behavior and territorial issues; CatastrophiCreations' furniture is what every cat needs. The company's owners, Mike and Megan, hand-make quality, sturdy and very fun alternatives to cat trees and cat towers that will have your feline friend up the wall in no time
Here's how they got started:
"We ended up paying much more then expected for our desert lynx kitten. Our next couple weeks we're a little stressful. He cried all the time and kept eating. One morning we woke up, and stumbled into the livingroom. To our surprise, our new baby kitten had gotten into my tool box and taken apart our couch and rebuilt it into a cat bridge. After that we thought, "Bingo", we'll lock him in a room and start selling all of his creations on Etsy.

"After a couple weeks we started feeling bad for the load we were putting on our new cat, so we got another cat to give him a hand and double the amount of orders we can produce. Toys for cats, by cats."
The sculptural sisal cat tree ($300) pictured above is one of my faves. It not only functions as a cat scratcher/climber, but could also be the sculptural focal point of your living room.
Their cat bridges–what first caught my eye–are amazing.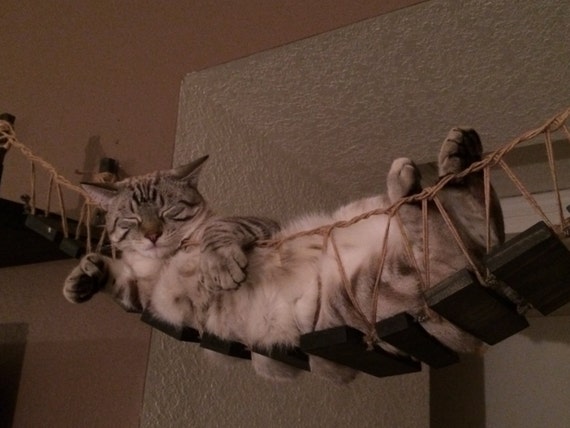 Impeccably constructed, they get four paws up from any cat who tries them out. (No, hubby wouldn't let me get one. There's no place in the house where we could install it.) This one's $150.
They have several bridge styles, including "The Boardwalk" ($150):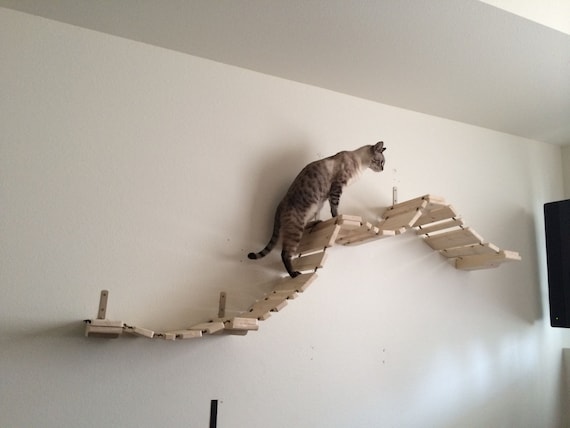 They all affix to wall studs and can be customized if your studs deviate from the standard 16″ spacing.
This three-level cat bunker ($200) only needs to add a big screen TV to keep your kitteh occupied for days at a time.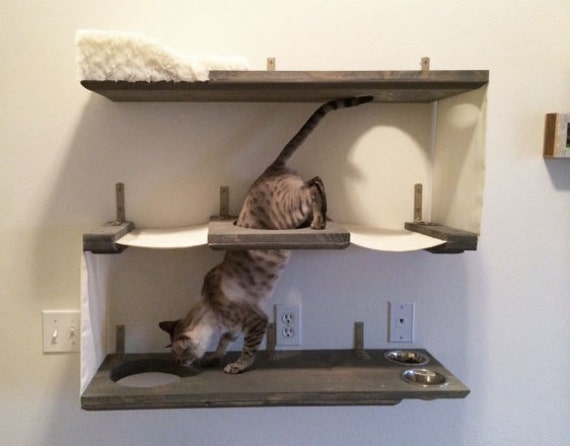 If your decor is traditional, the Roman Fort ($300) might be right up your alley.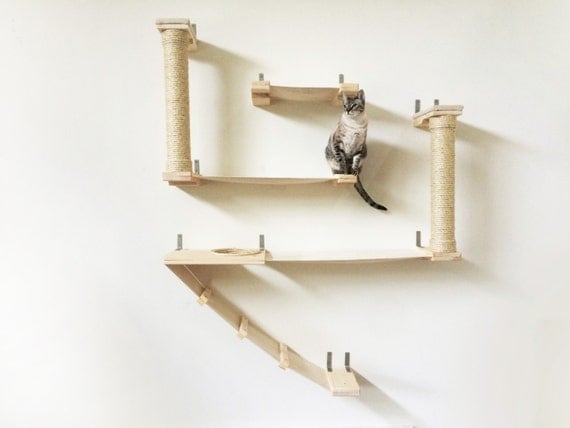 They offer about eight stain options to match any decor. Where appropriate, you can also choose a fabric.
These high quality pieces will last forever, they're just that sturdy. Check out all of their products in their CatastropiCreations Etsy shop.