Things are looking up for Wilford, who has just landed a forever home after being surrendered to a shelter in December by someone who was no longer able to care for him. This hefty D.C.-area cat went viral over his adorable face and exceedingly chonky appearance has no just landed a new home–he has landed a PURRfect new home.
You see, Wilford is packin' a lotta groceries (as Newman and Wilbur's mom is fond of saying). He's sweet and unquestioningly adorable, but needs to work out to a few Sweatin' to the Oldies videos to get down to a healthy weight. And he needed an adoptive family who wouldn't shy away from tending to hygiene around his poophole*. Wilford was 28 pounds when he was first surrendered to the shelter, and now has a goal weight of around 14 pounds.
Kiah Berkeley and Peter Sorkin adopted Symba the "tubby tabby," a ginger cat who made headlines in 2017 after winding up at D.C.'s Humane Rescue Alliance weighing in at a whopping 35 pounds. The couple renamed him Vito (great name, am I right???) and were helping him gradually lose weight. Unfortunately, Vito died in January after fluid was found in his abdomen, and was mourned by not only his owners but thousands of online fans. But Kiah and Peter announced some happier news on Vito's Facebook page last week.
"While no cat will ever replace Vito — we still miss him every day — we do know we can give a loving and healthy home to Wilford, DC's latest chonky celebrity," read the announcement on Vito's Facebook page, now titled "Symba the tubby tabby and Wilford, too."
"We had recently lost our beloved Vito and were looking to fill the fat-cat-sized hole in our hearts," Kiah said to HuffPost in an email. "Wilford, of course, does not replace Vito and Vito will always be my best boy ― but obviously Wilford is a spectacular cat and we didn't want to pass up the opportunity."
Wilford's sudden fame generated a massive number of adoption inquiries, but the couple won out because their unique experience slimming down a morbidly obese cat coupled with an understanding of his hygiene needs and willingness to clean his poophole made them uniquely qualified to parent a tubby tabby. The poophole cleanup was a dealbreaker for many potential adopters.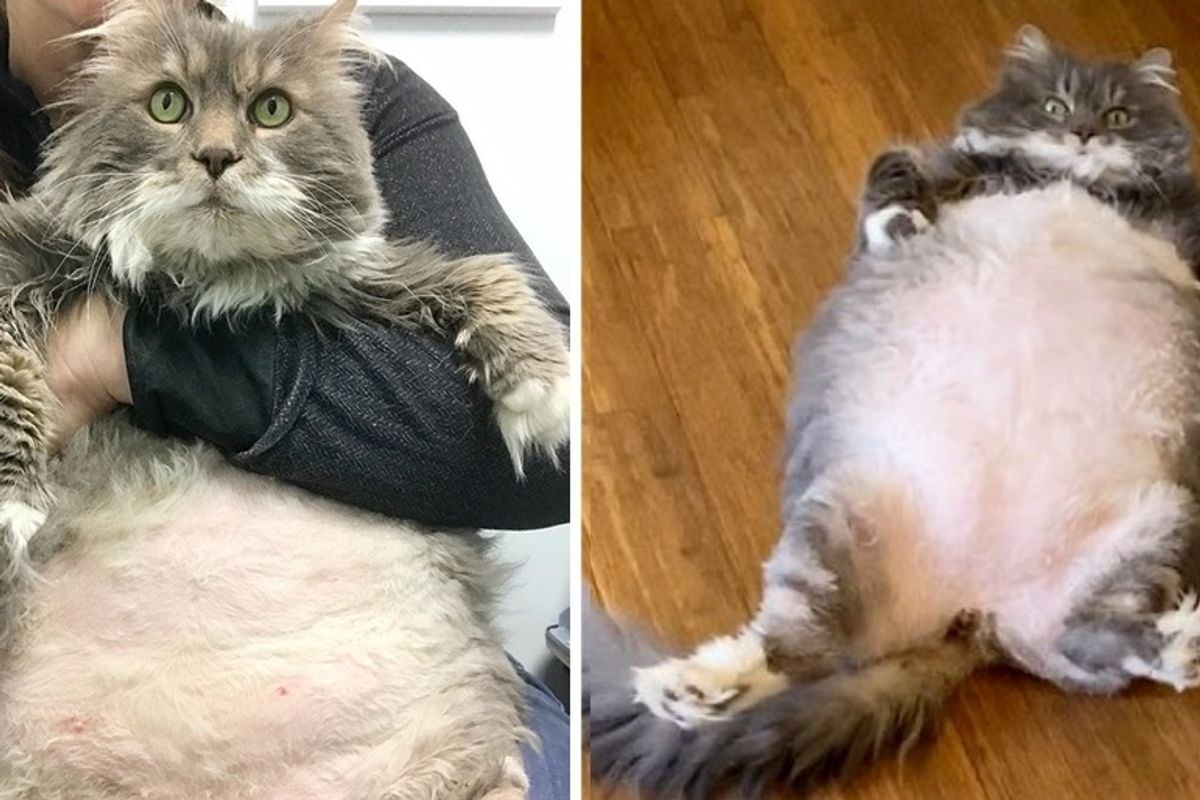 Wilford is "settling in nicely," according to Kiah.
Everyone involved in Wilford's rehoming hope that those moved by his story will be inspired to take action to help animals in similar situations who might not be as famous.
"He's gotten the benefit of being super adorable, photogenic and having a good PR system to help him get the attention he wants," said Wilford's foster mom. "But there are absolutely Wilfords in just about every shelter and rescue around the U.S. … Maybe their Wilford isn't an obese grandpa cat, but a three-legged cat … or the brown tabby who's been there for a year."
Ian chimed in to advise people to "look for the cats that slipped through the cracks."
Wilford's not slipping through any cracks.
---

* Or as Daisy the Curly Cat referred to that area: the Spot 13.