SEVERED HEADS CATNIPS CAT TOYS! NEED I SAY MORE? OH WATE. I FURGOT, NO CAP LOKS WIN I RITE ON MOUSEBREATH. Here we go.
I am making my list for Sandy Claws becuz I am THE BEST CAT IN THE HOUSE and I will probly git all the prezints on Krissmiss. This is at the vary top of my Krissmiss list it is SEVERED HEAD CATNIP CAT TOYS wich is vary convenient cuz everycat knows the hed is the VERY BEST PART it's like gitting a pakije of chikkin made of just drumstiks that's on my Krissmiss list too.
Severed Heads Catnip Cat Toys Reduce Waste
No more chewin off the heads for the good parts and shoving the rest under the frijerater.
Look! Here's a severed bunny catnip head: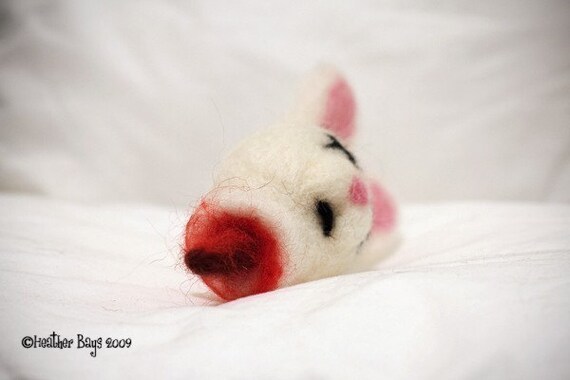 See, it's all bluddy and stuff. Very realistic. The only thing it's missin' is branes spillin out. Maybe they're saving that for v.2.
Where to Buy Severed Head Catnip Cat Toys
The severed head catnip cat toys are feechered in Mousebreath's Holiday Christmas and Hanukkah Gift Guide, or you can buy them directly here.
This is going at the top of my list for Sandy Claws. How about you?????