Justin Bieber's cat Sushi has returned home after an incredible 3-week journey, and though the kitty's meow sounds sad … the family's happy he's home.

Sushi wandered into Food Network chef Sandra Lee's backyard looking emaciated but very sweet. She took him in, fed him and cleaned him up (and removed some porcupine quills), then called the phone number on the tag. Forty minutes later, cat and owner were reunited, and Lee discovered that Sushi's dad was Bieber.

Lee 'grammed the rescue story:
Guess what walked into my back
yard last night?
My best friend and I Had
no idea what it was or who's it was.

The cat almost darted away, then all of a sudden It was all over us, so very thin, very emaciated but so sweet. And it was so beautiful … I was thinking…..That is not an ordinary cat.

THE CAT LOOKS LIKE A BABY LYNX!

He was starving, cold, scared, exhausted and stuck with porcupine quills —-but he was happy and excited all at the same time. Three (3) cans of tuna and a bowl of warm milk later the painful Quills have been removed and we are cuddling on the couch- drowsy and milk drunk the purring baby was calmed so we took the collar off and called the number.

I Thought the young man on the other end of the phone was going to either burst out in shrieks of joy or burst out in tears —he was so happy, shocked and stunned..
…still I no idea who it was… I swaddled the cat in a blankey and sat on the couch petting him while it slept for the 40 Min it took to have the owner come to my house.

Falling in love with this creature the
whole time wishing it had no collar so I could adopt him ….but in good Conscience I knowing first hand how it feels to be a pet parent panicked when their baby is compromised.
And guess what…… It was THE SUSHI!
Didn't realized SUSHI THE CAT
was a whole thing!

Lost for 3 weeks ….all alone
I can't even imagine what Sushi's three weeks of hell running up and down Beverly Hills mountains were like —There are so many wild animals in the canyon and I cannot believe he survived.

So now I am Aunt Sandy to
Bieber Baby Lynx of a cat!
Lesson to all… it you see some thing say some thing and if you see something do something!
The Beverly Hills hills are thick with predators and Beiber said that he and Haileyhad nearly lost hope of ever getting him back as weeks went by. Everyone but PETA is thrilled that Sushi's story had a happy ending.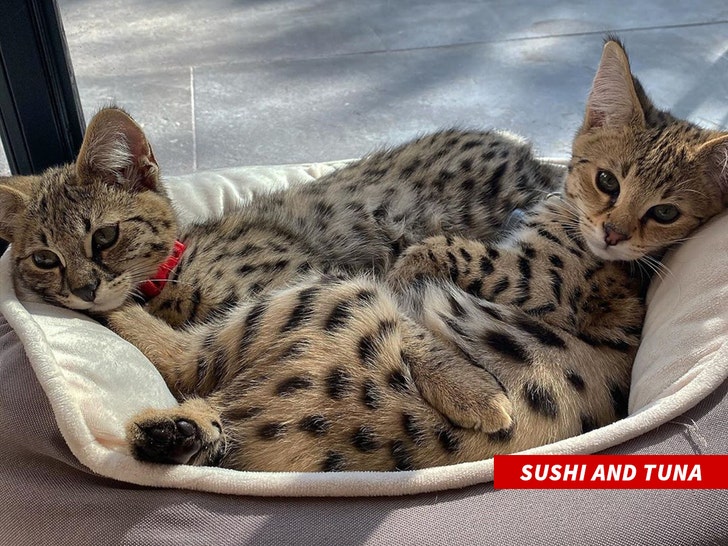 You may recall that Bieber was attacked by PETA last year when he adopted Sushi and Tuna, a pair of Savannah kittens. PETA slammed Bieber for buying exotic "designer" cats rather than adopting shelter cats.
He them to "suck it."And here's a little editorializing on my part….

PETA has a history of making high profile pronouncements. The organization is a lot more interested in media mentions than behind-the-scenes work to improve the lives of pets in need. In 2018, PETA euthanized 72% of the animals entrusted to its care in the "animal shelter" that it operates in Norfolk, Virginia (81 percent of those euthanized were the cats in this shelter.) And that's a decline from past years, when the kill rate frequently exceeded 90 percent. PETA spent 2017 killing on average approximately five pets every single day — including weekends and holidays. Compare that to the statewide euthanasia rate in Virginia: non-PETA-run shelters euthanized 26,907 of the 225,879 dogs and cats that were in their custody, for a rate of 12%.

PETA complained that the character "Little Bo Peep" was portrayed with a shepherd's crook in the animated feature Toy Story 4.  They insisted that wildlife art be displayed on President Trump's Wall (if it is ever built).

PETA is driven by the extremist ideology of animal liberation — the view that, in PETA founder Ingrid Newkirk's words, "a rat is a pig, is a dog, is a boy." Over the years, that belief system has led the organization to associate with more than a few unsavory characters. The group funded the legal defense of an animal liberation arsonist and provided grants to the violent extremists at the Earth Liberation Front, according to InfluenceWatch.

So yes, you can argue that the Savannah breed should never have been developed. And that Bieber might of helped a boatload of shelter cats had he chosen to do so. But reputable breeders perform a valuable service by maintaining the purity of breeds and ensuring that they don't suffer from medical problems caused by irresponsible breeding.

Regardless, everyone is happy Sushi and Tuna are back together with their human parents … and hopefully, there are no more runaways.