Monique, a stunning 2-year-old Maine Coon, was hoping to celebrate her second birthday with a loving family, but instead, she partied alone, not in a furever home.
According to Battersea Dogs and Cats Home, a U.K.-based animal rescue, Monique has been at the rescue's South London shelter for over 115 days. (That's way longer in cat years, btw.)
To encourage more prospective pet parents to pick Monique, the shelter recently threw her a birthday party.
Unfortunately, even after Battersea built up hype about the bash on social media, NO ONE SHOWED UP to Monique's big day, which included a Happy Birthday banner and some of her fave toys.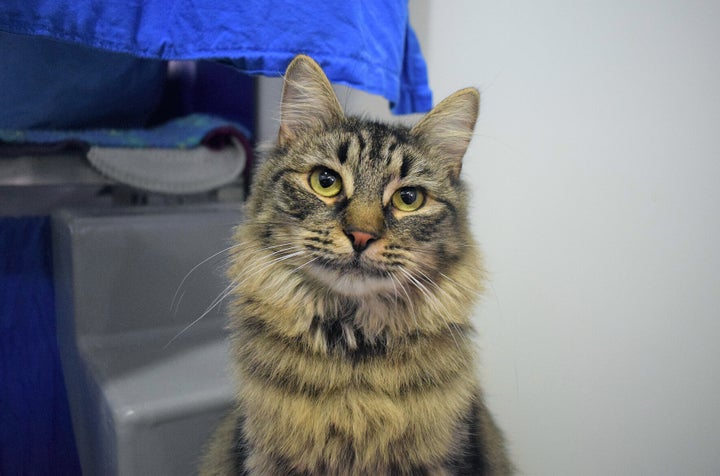 Worse yet, Monique didn't receive a single adoption application following the party.
"It's always a shame to see one of our cats be repeatedly overlooked, especially one so young and with so much to offer as a pet," Battersea's cattery team leader, Chrissie Grindrod, told Metro. "Monique is a gentle soul who thrives with human company, whether that be playing with her favorite toys together or curling up side by side on the sofa."
According to Battersea, Monique is playful, affectionate, loves adventure and wants to be your best friend. The cat is also positive for the Feline Immunodeficiency Virus (FIV).
"FIV is a slow-acting virus and most cats live long, happy and healthy lives," Battersea writes on Monique's adoption profile. "However, in order to protect other cats and to preserve the health of the carrier, Battersea rehomes FIV+ cats to homes with cat proof gardens. Also, due to her FIV+ status, Monique will need to be the only pet in the household.
I can purrsonally testify that FIV+ cats can live long, healthy, happy lives. We've had two FIV+ cats (one of whom was Tripper). Both lived to ripe old ages and neither had any health issues during their long lives. FIV+ is not a death sentence, and I would highly encourage anyone looking to adopt a shelter cat to consider adopting an FIV+ cat.
Not in the market for a new cat? Then do Monique a favor and spread the word about life with a FIV+ cat. Here are some talking points:
Feline Immunodeficiency Virus (FIV) is in the same family as the human immunodeficiency virus (HIV) that causes AIDS, but it only appears in cats.
FIV cannot be transmitted to humans.
FIV is spread primarily via biting. It cannot be transmitted via casual contact (for example, sharing food bowls).
Many cats with FIV live happy healthy lives. It's not a death sentence.
READ MORE about FIV here.